Studying the word of God is a necessity for us believers; for us as women who are pursuing after Christ – it is how we get to discover and know who God is, who we are and how he expects us to live our lives.
But more often than not, reading the word of God really isn't a priority for us – we have so much going on in our lives that we don't have time for God; and if it is a priority, we tend to struggle.
If it's not complacency, we struggle with laziness (as much as it may be hard to admit, at times, we are just lazy when it comes to reading the word of God). 
Other times it is not only a  lack of knowledge on how to read the word (i.e many of us treat the Bible like any other ordinary book), but a proper view/attitude of the importance of the Word of God, and other times it is but an attack from the enemy!
Here at UnScripted, we recognize these challenges, and want to come alongside you and help you build up the discipline of reading the Word and being in the word everyday, because sis, it is possible!
It is possible to be a woman in the word everyday.
It is possible to be a woman who is consistent when it comes to not only prayer but also reading the word of God.
And it is also possible to be a woman who grows in the word, becoming spiritually mature and one whose life, mind and heart is led and transformed by the word of God.
So, if you're ready to ditch the laziness and complacency when it comes to Bible Reading and become a woman in the Word everyday, this is for you!
We introduce to you, the UnScripted Bible Challenge!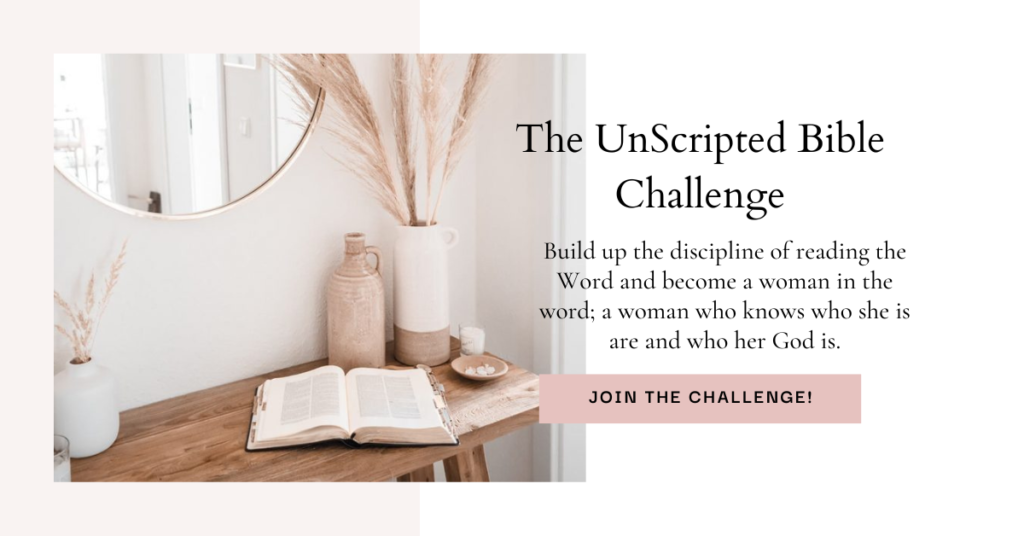 The UnScripted Bible challenge, as the name suggests, is a challenge to us as women to be in the word everyday building up our spiritual muscles and growing both our faith and relationship with God!
Alongside the Bible Challenge, we are launching what we call 'Small groups'.
These are groups of 3-8 ladies established in different locations within Nairobi, outside Nairobi (and soon expanding outside of Kenya) with the sole purpose of studying the word as a community.
At the moment, we have 6 locations/groups, namely: the Kileleshwa/Kilimani small group, Madaraka small group, Thika Road small Group, Nyayo Estate Embakasi small group, Mombasa small group and a virtual small group (this is for anyone who is unable to join the above groups or there is a challenge in setting up a small group in their location due to various reasons).
To explain it even better and to dive deep into how it works, we have created a video for you explaining it all! 
Ready to join us and become a woman in the word everyday, sign up below!!